Big Kitchen In A Tiny House
Today's post is all about how we made a big kitchen in a tiny house.
Hi, we are Joel and Rachel Binkerd and we travel in our bus with our cat Montego or Monte for short.
Just a little back story about us and the journey with our bus. We bought our skoolie in Florida from a couple who originally converted in on HGTV (Tiny House, Big Living season 8 episode 11). At this point, we had lived in the bus for 6 months while we've worked on it. It was definitely a bigger undertaking than we expected but we are so pleased with how it turned out.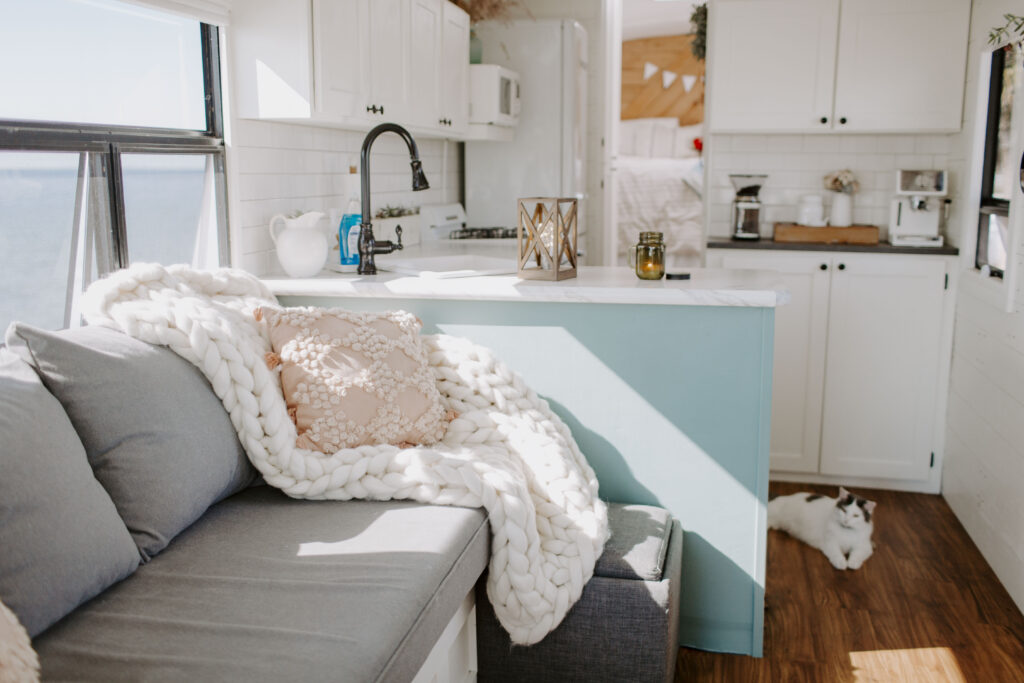 Remolded Big Kitchen In A Tiny House
Our tiny house kitchen took us two months to redo. Just about everything that could go wrong did, but the finished product was worth not having a kitchen to cook in for 8 weeks!
Shiplap
We added shiplap on the walls because the plywood on the walls cracked while driving down the road. We also trimmed out the windows to give them more of a home-like feel and to keep the insulation from sticking out. Adding shiplap probably cost us $50 total.
We used very thin plywood, cut it to size, and then painted it. Then, we used glue and finish nails that we left exposed for a more imperfect look. This part was very easy and inexpensive!
Countertops
When we got the bus the countertops were marble-looking contact paper. We didn't think that it would need to be redone but after a few months, the spots near the sink and the oven started peeling. It is now a laminate countertop from Home Depot that looks like marble.
We actually had to order the laminate twice due to a funny but tragic story. As we were getting ready to glue the laminate and board together the wind picked up. Rachel was holding the laminate and the gust of wind ripped it out of her hands, it smacked her in the face before snapping into pieces. Waiting another two weeks for the next sheet to arrive is part of why our kitchen took so long to redo.
Cabinets
When we started this journey we expected to replace the upper open shelves with closed cabinets. We kept the same color as the walls so they would match and it wouldn't feel squished. This is a big reason that the space in the kitchen still feels big even though it's a small kitchen. We also redid the lower cabinet doors, hardware, and added drawers.
When we moved in the countertops were higher than the average home's but we ended up loving it. 1. We stand up straighter when washing dishes and our backs don't hurt 2. We have more room for storage, so we kept it when redoing the kitchen.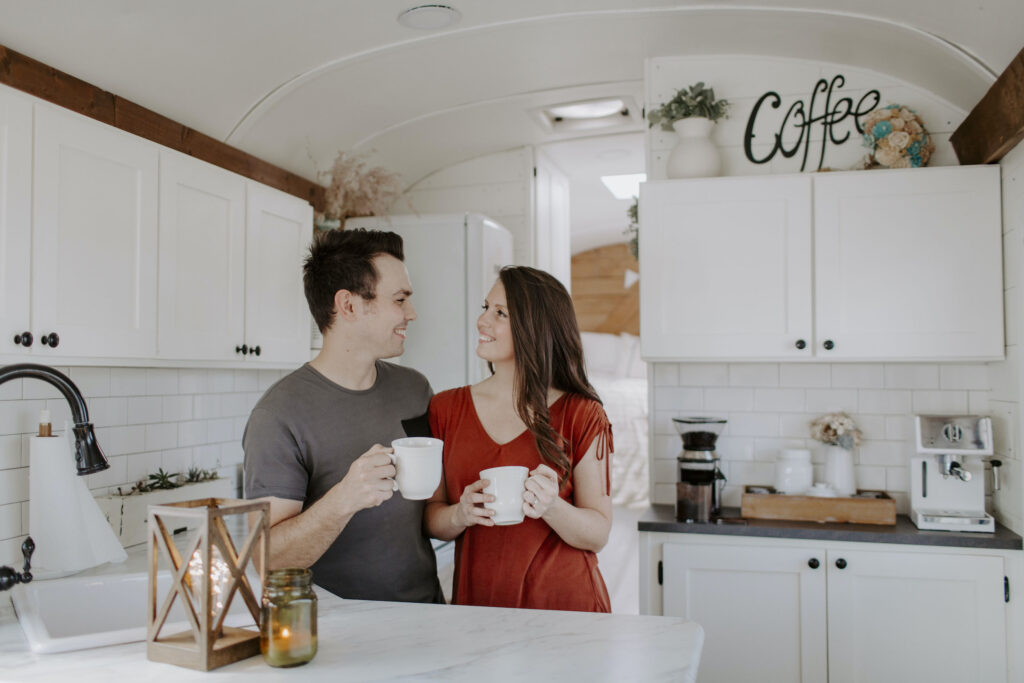 Fridge
A BIG project that we didn't expect involved taking down a wall. The old fridge was a Dometic gas/electric and we were warned about them catching fire sometimes. The fridge was installed before the walls were finished so when we went to remove it, it was 2 inches short.
This meant we had to take down the wall that used to be right next to the stove and between the fridge. The wall also ended up taking two ceiling panels with it, one reached into the bathroom. This part of the project is why we say the kitchen was the hardest renovation to date.
At the time we didn't have quality tools so installing plywood on an 8ft curved ceiling, with no room for a ladder was extremely difficult! Now we have a much larger fridge that looks stunning and a spice rack.
If I could offer one piece of advice it would be to make sure you use quality tools. It would have saved us a tone of energy and time. I will link our new favorite brand here, we also use their vacuum which uses the same batteries as the drills.
Keep up with us as we travel and live in our converted school bus. We are very active on Instagram as Binks_Tube, we post travel content on YouTube also as Binks Tube, and the same for TikTok.
Subscribe for Updates and More!
Subscribe to stay in touch and receive the latest updates and discounts like 25% off our Going Tiny How & Why eBook.