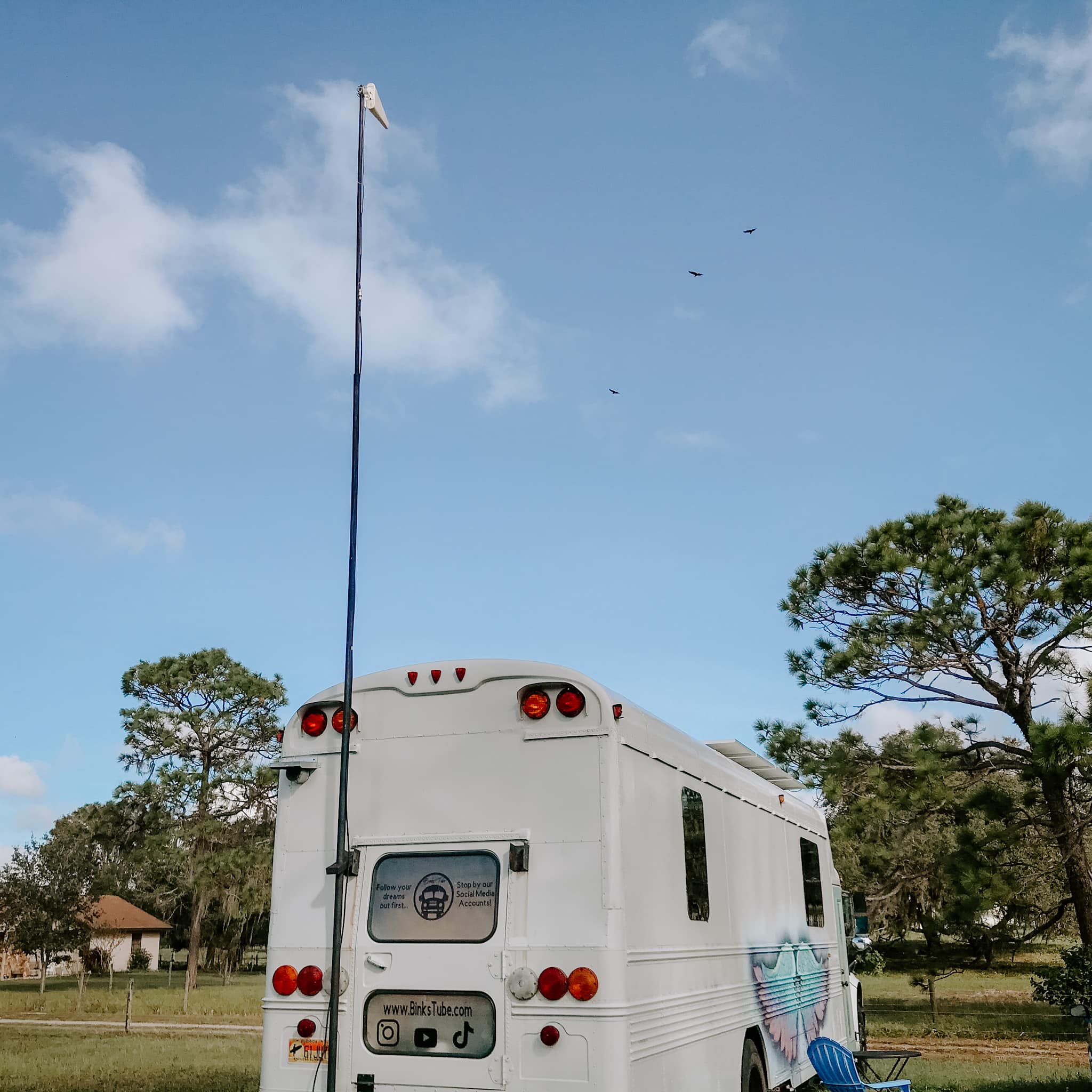 A common question we get asked a lot is, "how do we make sure we have Internet and phone service?". The answer is our amazing mobile booster! Because of our mobile booster, we have been able to work from some remote locations.
We are Joel and Rachel, and we have been living in our converted school bus since 2019. Traveling is our passion, but we still work, so having a strong signal is extremely important.
There have been many hours put into researching finding the best signal booster. Also, we have talked to many people in the community who have had first-hand experiences with the boosters listed below.
There are really only two options when it comes to mobile boosters for travelers. One is much better than the other in our experience and research. We will still mention both because they are in two different price brackets. The first one still works; it is just not as reliable or as powerful as the second.
1. WeBoost | Mobile Booster
WeBoost was the first to become recognized in the travel community for boosting the signal. It is the cheapest of the two, but the downside is some people have not been happy with the product. We have heard lots of complaints from east coast travelers that said it wasn't worth their money. We have also heard a few people on the west coast say that it has made a difference. The price point will lead people to buy WeBoost but be aware that if a strong signal is a must for work, and you don't want to be limited on where you can go, this product may not be for you.
The Cel-Fi Go X is what we went with after doing a lot of research, and we are so happy with it! Yes, it is more, but this mobile booster is for you if you need a strong signal. They also have amazing customer service! We have personally been using the GO X for over a year, and we have NO complaints at all. It does what they advertise, and if you do ever have any questions, customer support will walk you through it with patience. This booster was not intended for those who live the travel lifestyle, but it works great. You will need to be aware of a few things listed below.
Why We Love Our Mobile Booster
When we first started working from our tiny home, we didn't expect a mobile booster was a need. Although, it has been our best and most used item we have bought so far. A few months after using our booster, we attended a converted school bus meetup in a national forest for the week. We had to work, but we could hang out in the evenings, and many were doing the same. Service was nonexistent in the forest, and many of us almost left until we moved the bus. Then we found a spot that got one little bar of 4g, and that was enough to have good service from our booster.
For the rest of the week, we supplied a reliable signal to other tiny home dwellers to work and not have to leave the meetup. They would take turns parking next to us and switching out spots based on who needed the signal at that time. Most of them even had WeBoost, but it wasn't able to get the job done. We love to tell people this story; if they aren't sure if their product is worth the price, it defiantly is 100% worth it!
You Need To Know
The only downside to the Cel-Fi Go X is that it is so powerful that it can be hard to get the receiver antenna and panel antenna far enough away from each other. If they are too close, the clean signal is jumbled, and it becomes unusable. We installed our receiver antenna on a 30ft telescoping pole (we don't always need it that high) for this reason and because it makes it easier to catch a weak signal when it is higher in the air.
How Do We Always Have Wifi?
That is because of our signal booster! We have switched what kind of service we use for the wifi a few times. The industry is undergoing a lot of change with 5g and StarLink.
The first wifi device we used was a mobile hot spot by JetPack that used AT&T service for $35 a month. Our phone provider was Cricket which also uses AT&T towers. This means our mobile signal booster worked for both our phones and hot spot. We eventually stopped using our mobile hot spot and opted to use the hot spots from our phones for now. It has been just as fast and cheaper at this point due to prices going up.
Thank you for taking the time to read this article. Feel free to honk if you ever see us on the road!
Subscribe for Updates and More!
Subscribe to stay in touch and receive the latest updates and discounts like 25% off our Going Tiny How & Why eBook.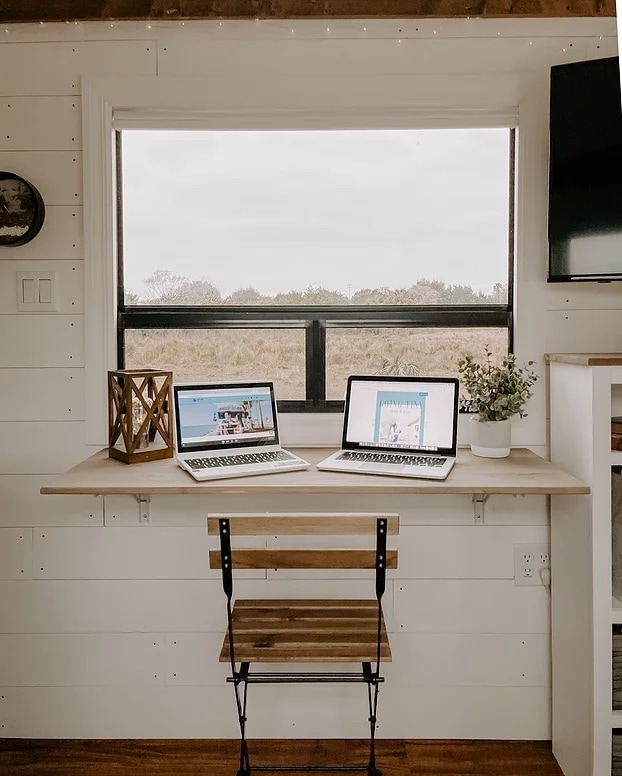 We are Joel and Rachel, and we live in a converted bus so having a foldable desk in our small space …
Read More